Republished from the WTA website here.
Hiked the Persis/Index traverse. Main takeaways:
Road is closed for logging 6 miles from the Persis trailhead; consider using a sturdy mountain bike on the approach.
Route is completely snow-free in late season, traction/ice axe/heavy boots unnecessary (early season has steep snowfield above 2000 ft cliff).
Huge amounts of blueberries mean black bears in area, bring appropriate food storage systems if staying overnight.
Consider bringing a lightweight 30m rope as a handline for going up/down one section of steep loose dirt.
Plentiful water sources from tarns on the first half of the traverse from Persis to Persindex, none from Persindex to Index.
We had cell service for most of the traverse.
We parked right off of Highway 2 at the start of NF-6200. This is an active logging road and is usually gated shut; don't drive up if the gate is open, you'll be locked in. Started at 5:20 am, biked six miles up gravel roads (2500 ft gain) to the Persis trailhead. We walked several sections because the road is quite steep. Had to move aside several times as logging trucks drove past. GPS is very helpful here because the road branches many times - it's a maze back there!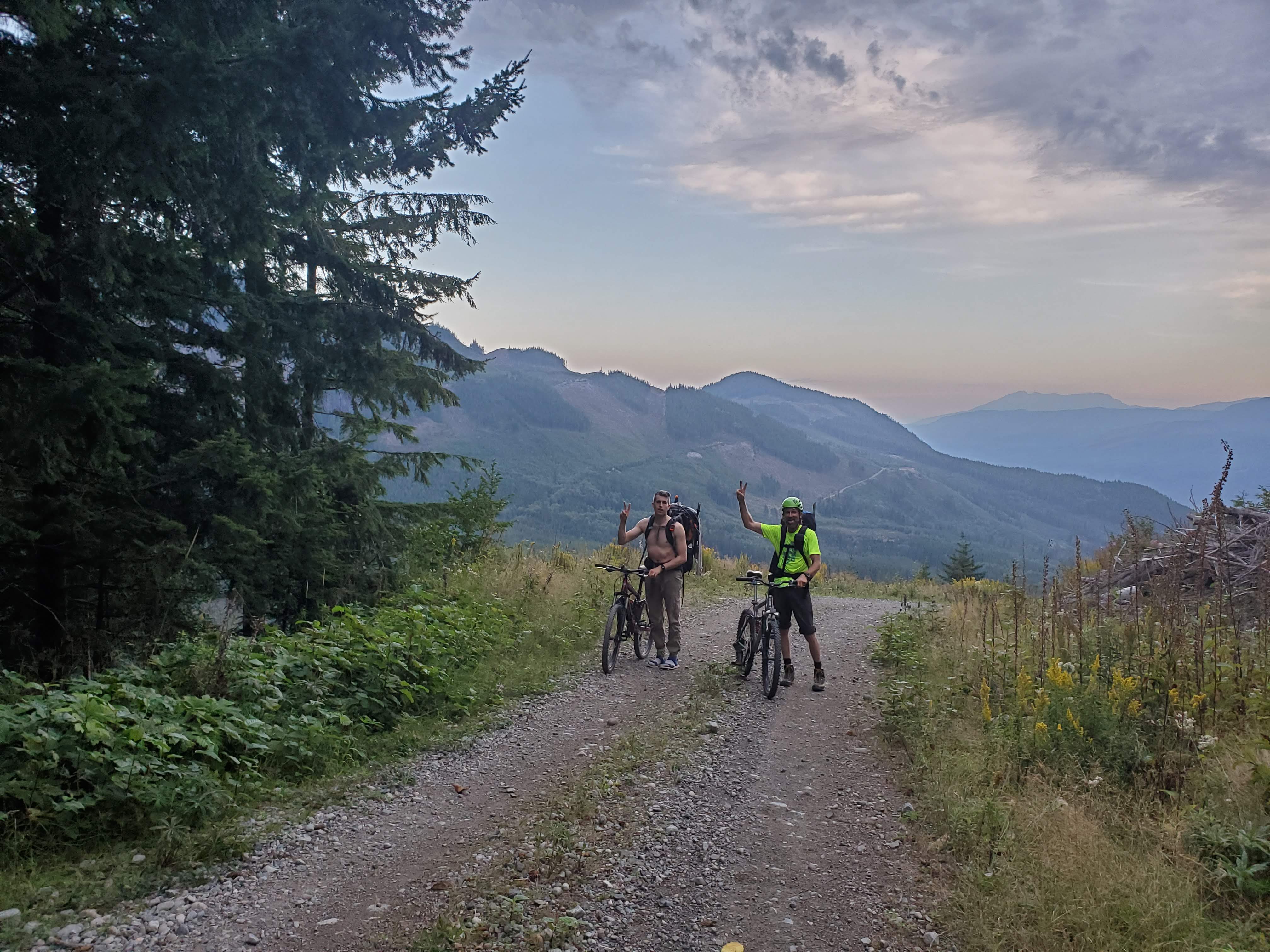 Stashed bikes and began hiking from Persis trailhead at 8 am. Trail in remarkably good shape, steep with some overgrowth and deadfall. Reached tarn below Persis at 10 am. Truly astonishing numbers of blueberry bushes presented themselves. Hiked another 15 minutes up to Persis summit, admired views, then began traverse.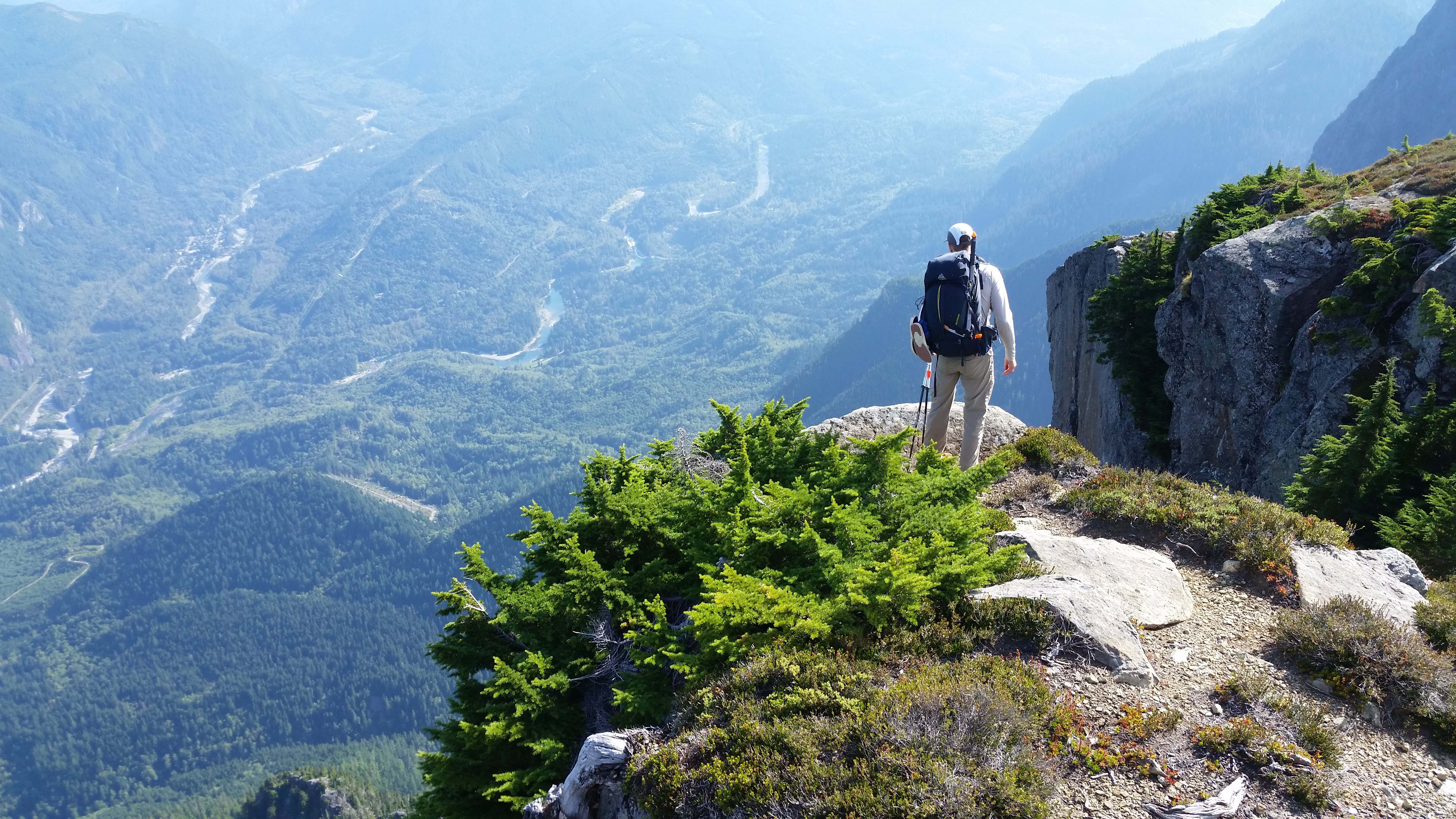 Dropped 500 feet down a steep boulderfield then traversed across brush (mostly blueberry bushes and heather) with intermittent boulderfields. It was difficult to stay on the trail in this section, although your destination is never in doubt. Scrambled up a ramp to reach another tarn, then a loose gully to reach the base of Persindex (a low-prominence mountain halfway along the Persis-Index traverse with a truly unimaginative name) where we set up camp next to a massive tarn. This took us two hours from the summit of Persis.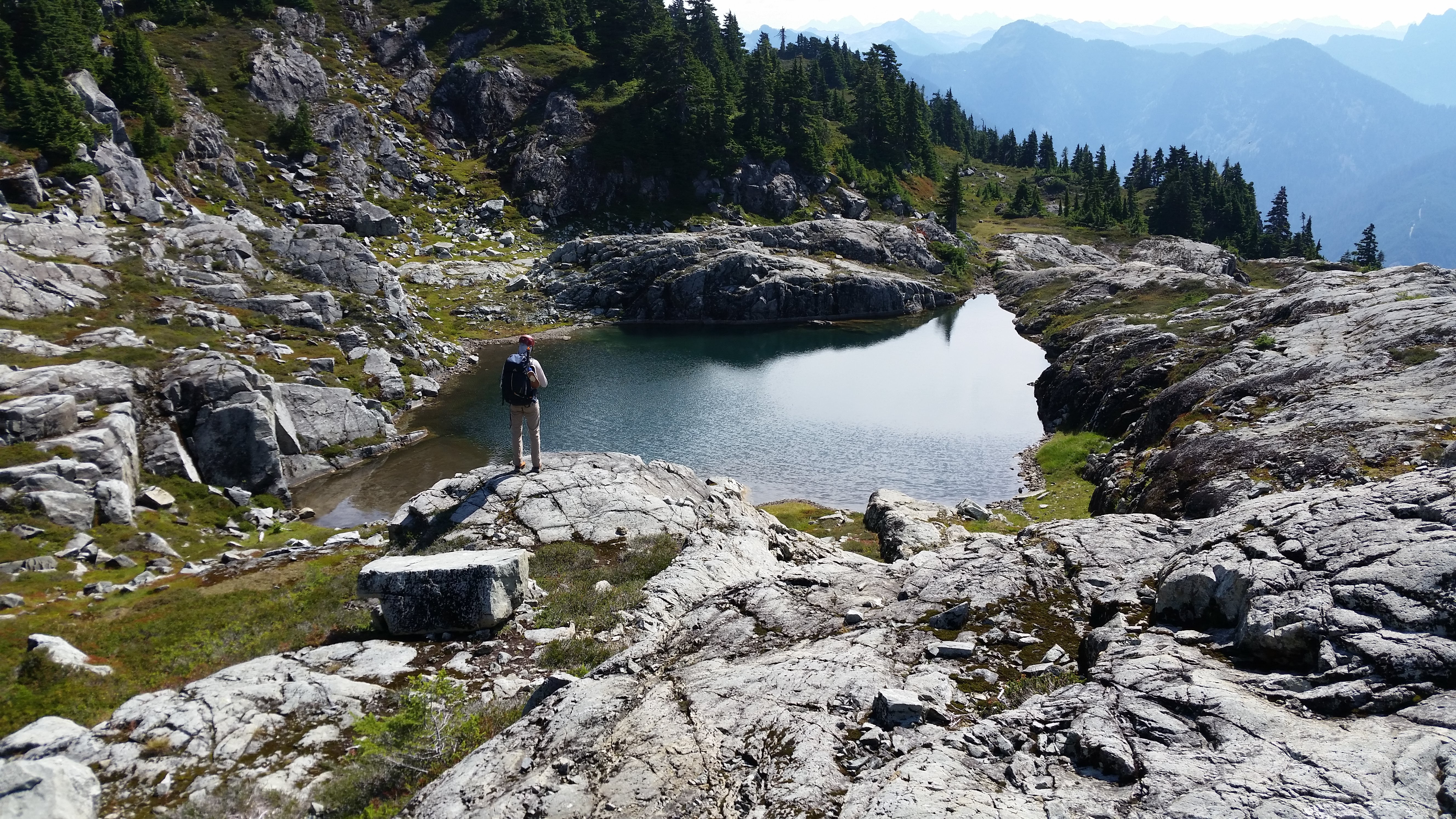 After shedding our camp weight we filled up with 2L of water because there are no water sources between Persindex and Index. Began traverse. Trail goes along steep forest with loose pine needles, made copious use of veggie belays. Not generally exposed, there were 1-2 sections with death falls but footing was fine. We reached the single very steep section right before the saddle below Index itself. We'd brought a lightweight 30m glacier rope which we set up as a handline on this descent down steep loose dirt; it was much appreciated and worth the effort to carry in.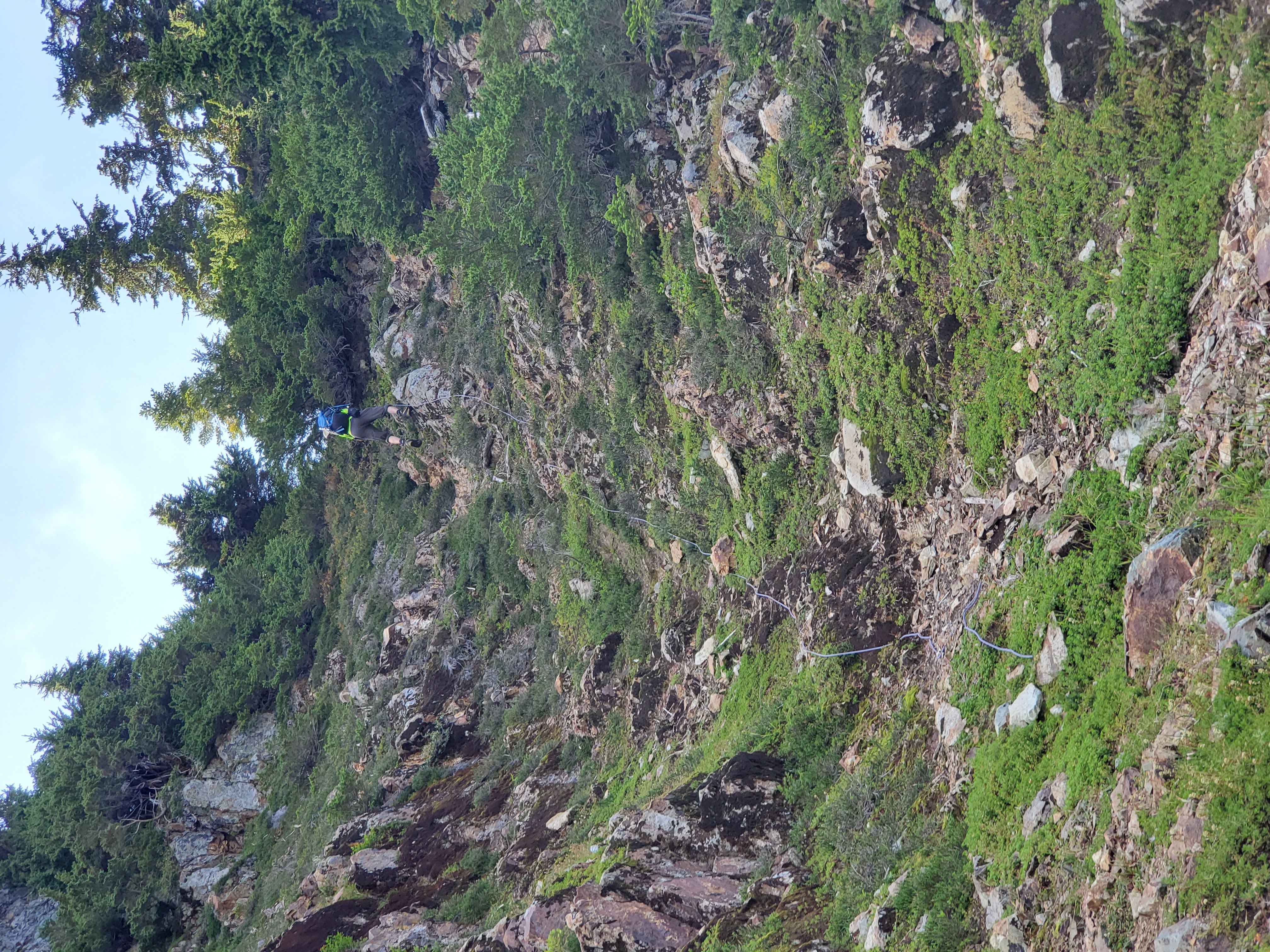 Began the ascent up Index, there were steep forest and loose rock sections but no real exposed scrambling. Encountered the melted-out steep snowfield halfway up; it runs out above a 2000 ft sheer cliff and would make early-season ascents quite spicy, but late-season there are just a few small patches of snow clinging to life. Annoying small flies buzzed our faces the whole way up. Many, many blueberries. Reached summit 3 hours after leaving camp, with views of Lake Serene 3000 feet below. You can supposedly summit from Lake Serene via the hourglass gully route in the early season; the terrain looks incredibly steep from above.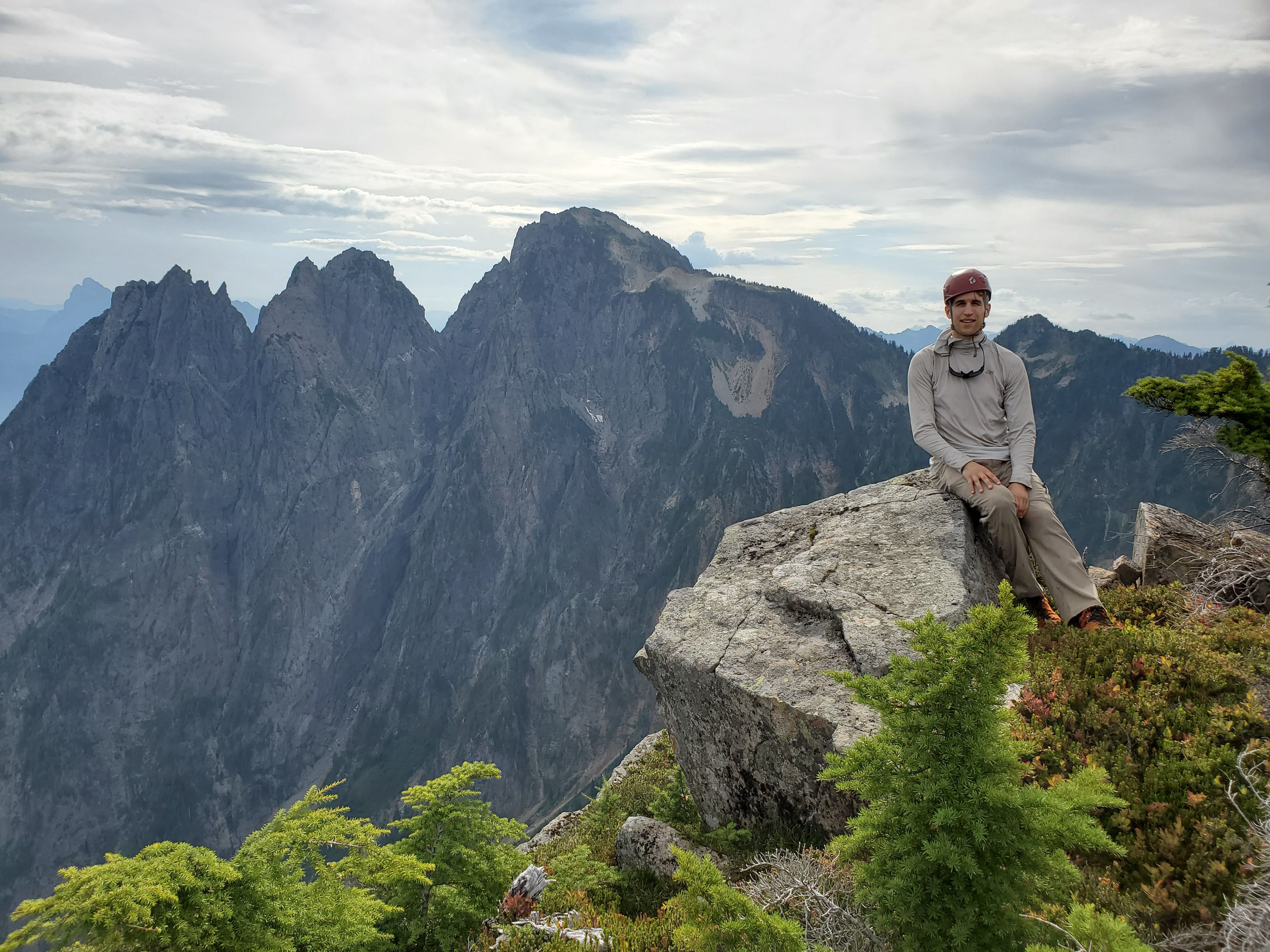 Returned to camp in 2 hours. The handline was again much appreciated on the way back up the loose steep section. Saw many large piles of black bear scat - they were enjoying the blueberries as much as we were! We made a small fire at camp and enjoyed a very comfortable, quiet night.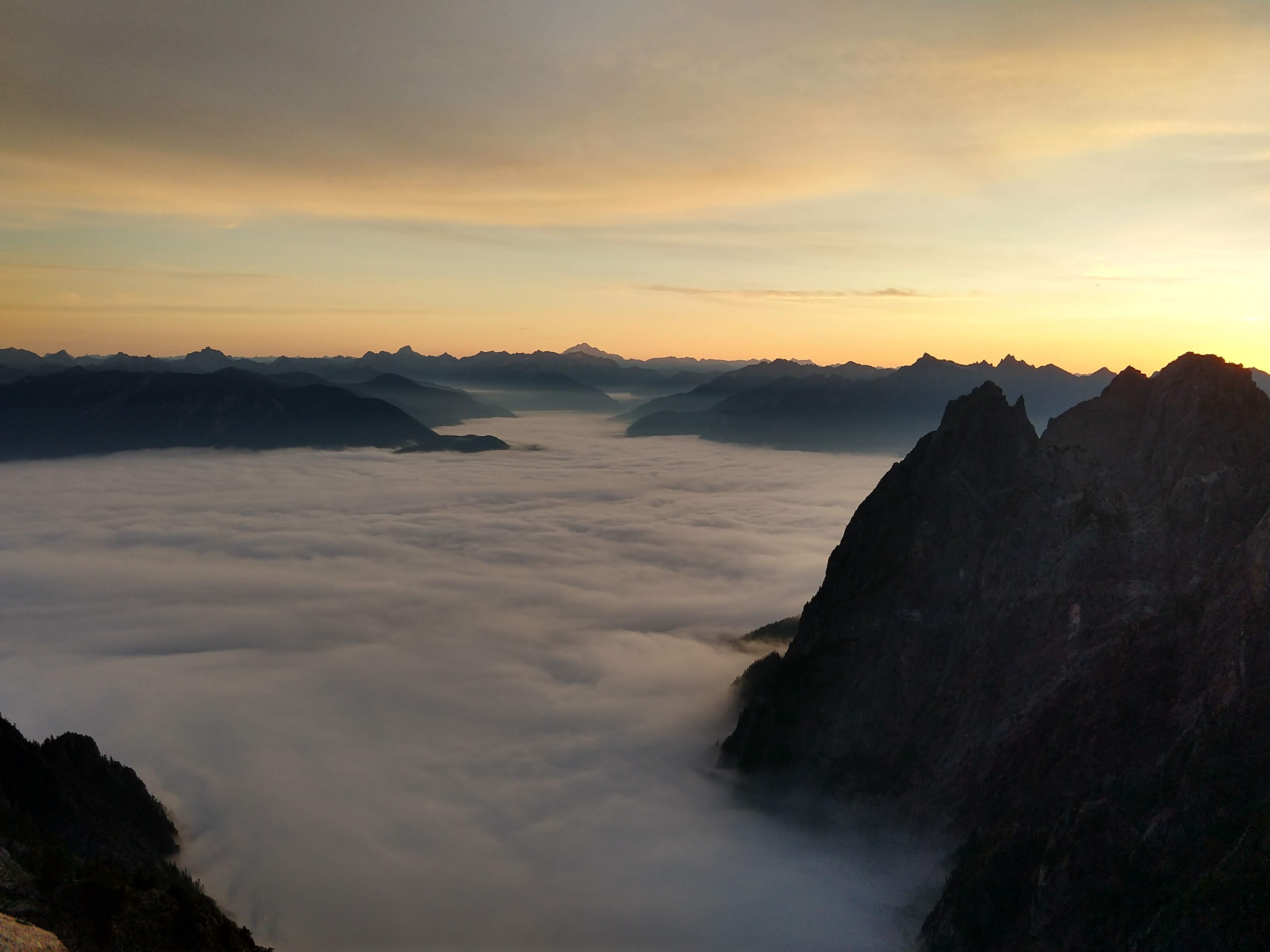 Woke up at 6 am and scrambled to the top of Persindex for some spectacular sunrise views. Jumped in the tarn, its temperature was very pleasant. Had a lazy morning, leaving camp at 8:30 am. Took a pleasant scrambling detour up one of the bulges along the ridge we named Gardentop (you'll know it when you see it, dear reader). Reached bikes at 1:30 pm. Took 40 minutes to cruise down to the car; sadly one of us had a valve stem flat and had to walk it out (bring a repair kit & spare inner-tube!).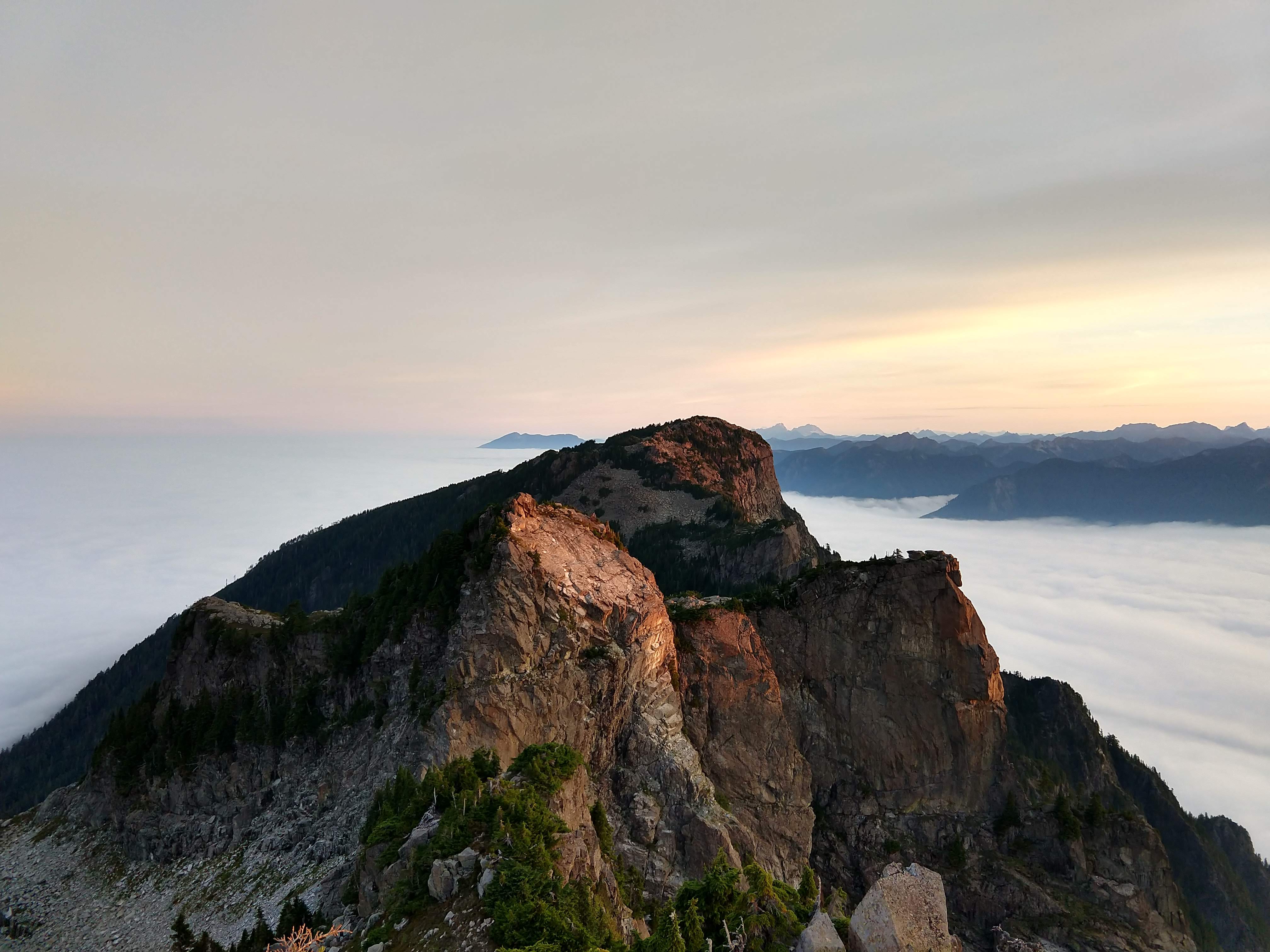 All in all a wonderful but long route away from the crowds, probably climbed every 2-3 weeks at most.