Republished from the WTA website here.
Attempted summit of Mount Stuart via Cascadian Couloir route, parking as Esmerelda Trailhead and approaching via Long's Pass. Main takeaways:
Bring crampons
Consider summiting later in the day when the snow has softened
The summit will probably be covered in cloud until it burns off around noon
You need a national forest pass (or equivalent) to park at Esmerelda Trailhead
Began hiking at noon Saturday, intending to bivy around 7800-8200 feet then summit Sunday. Reached Ingals Creek in 2:15 pm; rested, hydrated, and loaded up with water (we assumed no water available on CC route). Encountered many climbers who had turned back due to morning snow conditions below false summit; most had only brought microspikes. One climber in microspikes had reportedly slipped & failed to self-arrest, sliding into rocks. They were banged up but able to walk themselves out. Snowpack was reported as one inch of soft snow over soft ice, and all said they felt insecure in microspikes and wished they had brought crampons. Almost exactly one year ago a climber died while descending that steep snow section, and it is notorious for claiming femurs.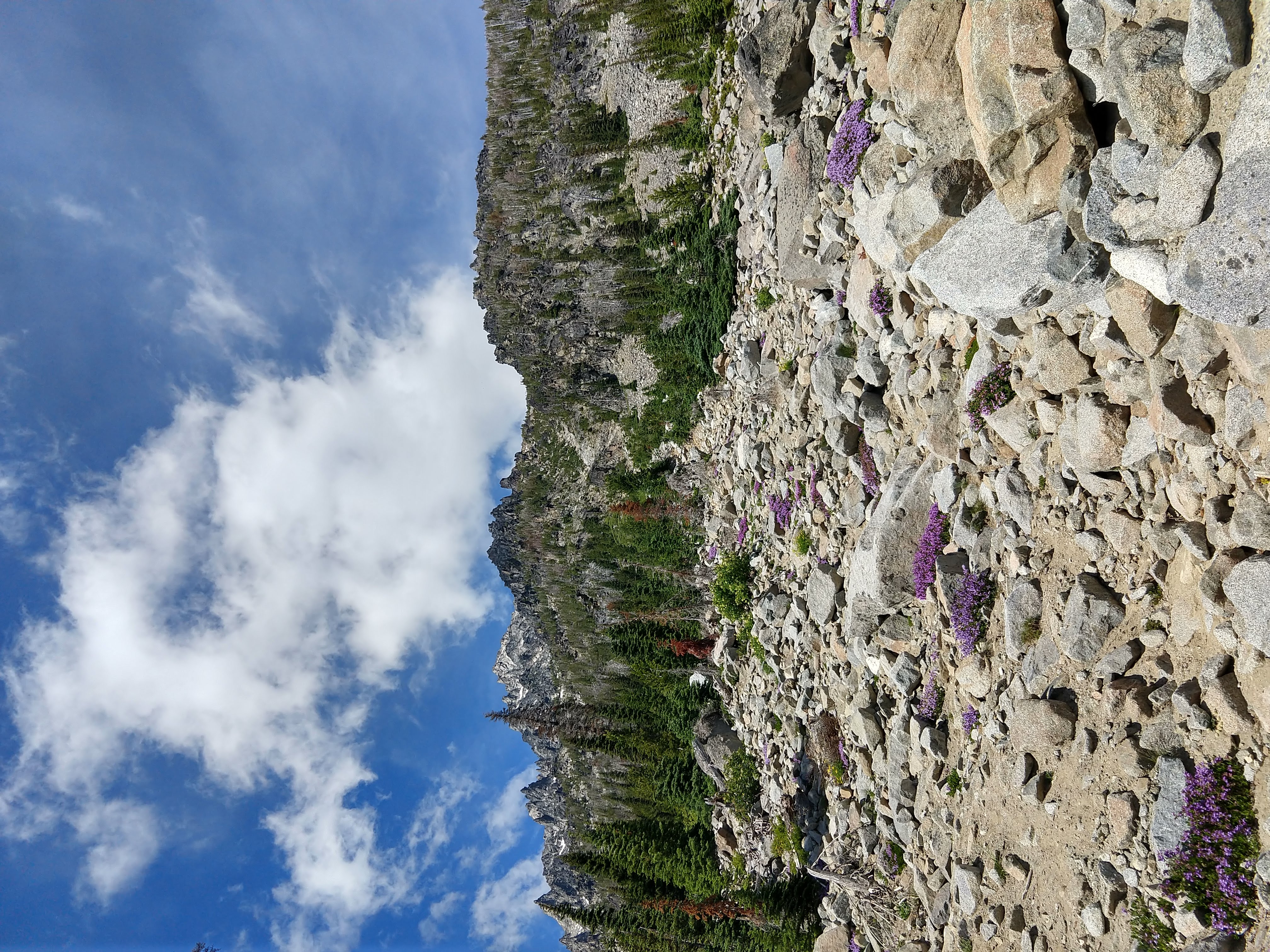 Reached base of couloir at 3:15 pm. Route was surprisingly easy to climb; I had expected a lot of loose choss, but it was mostly solid with some sandy or scrambly sections. Reached top of couloir at 5:15 pm. Began scoping out bivy sites.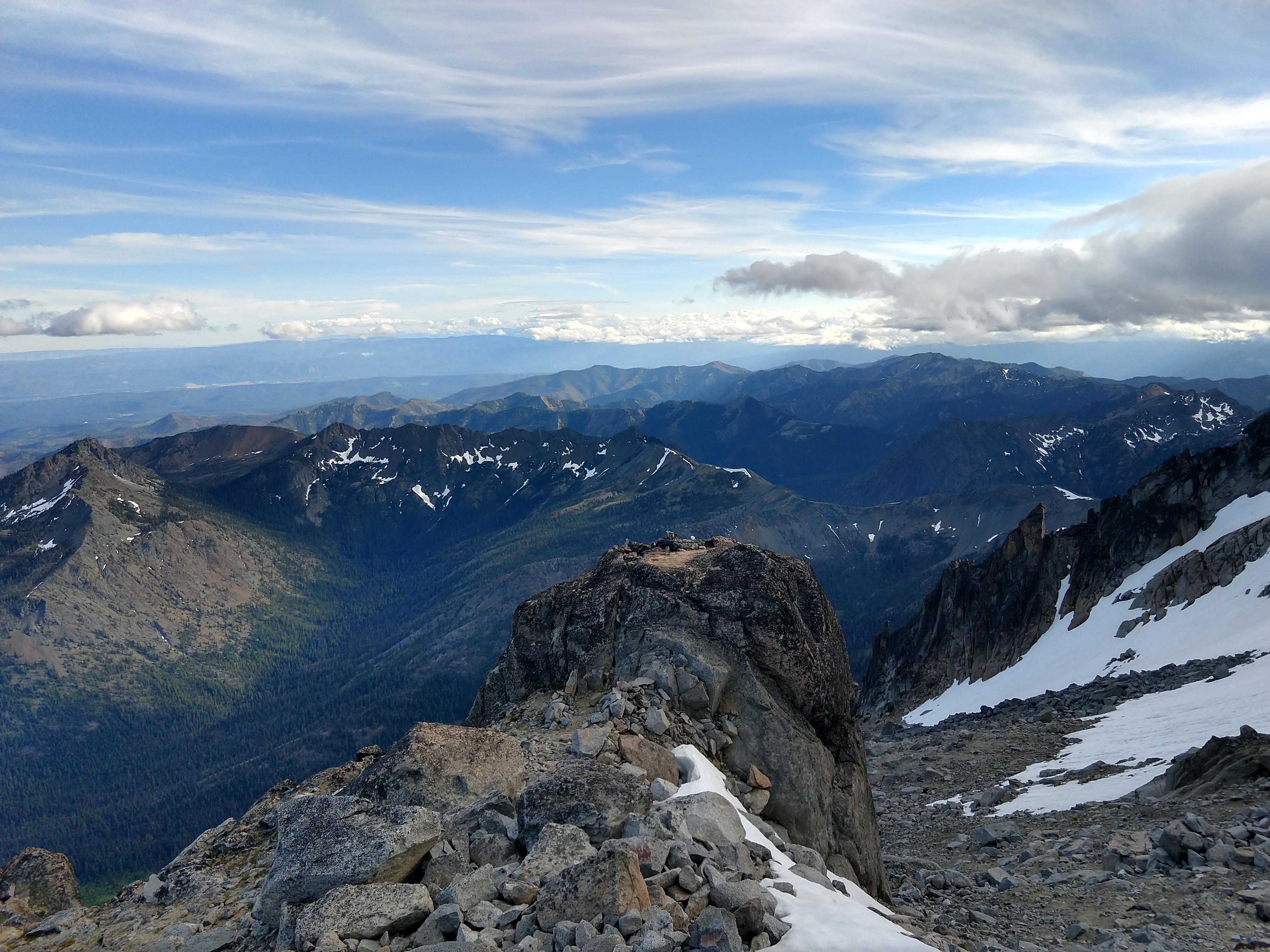 Encountered team of descending climbers who had successfully summited. All had crampons and reported snow was now soft enough enough to kick steps so a good bootpack had formed. They also reported a very good bivy site directly below the false summit, above the steep snow section. We decided to go for this bivy site.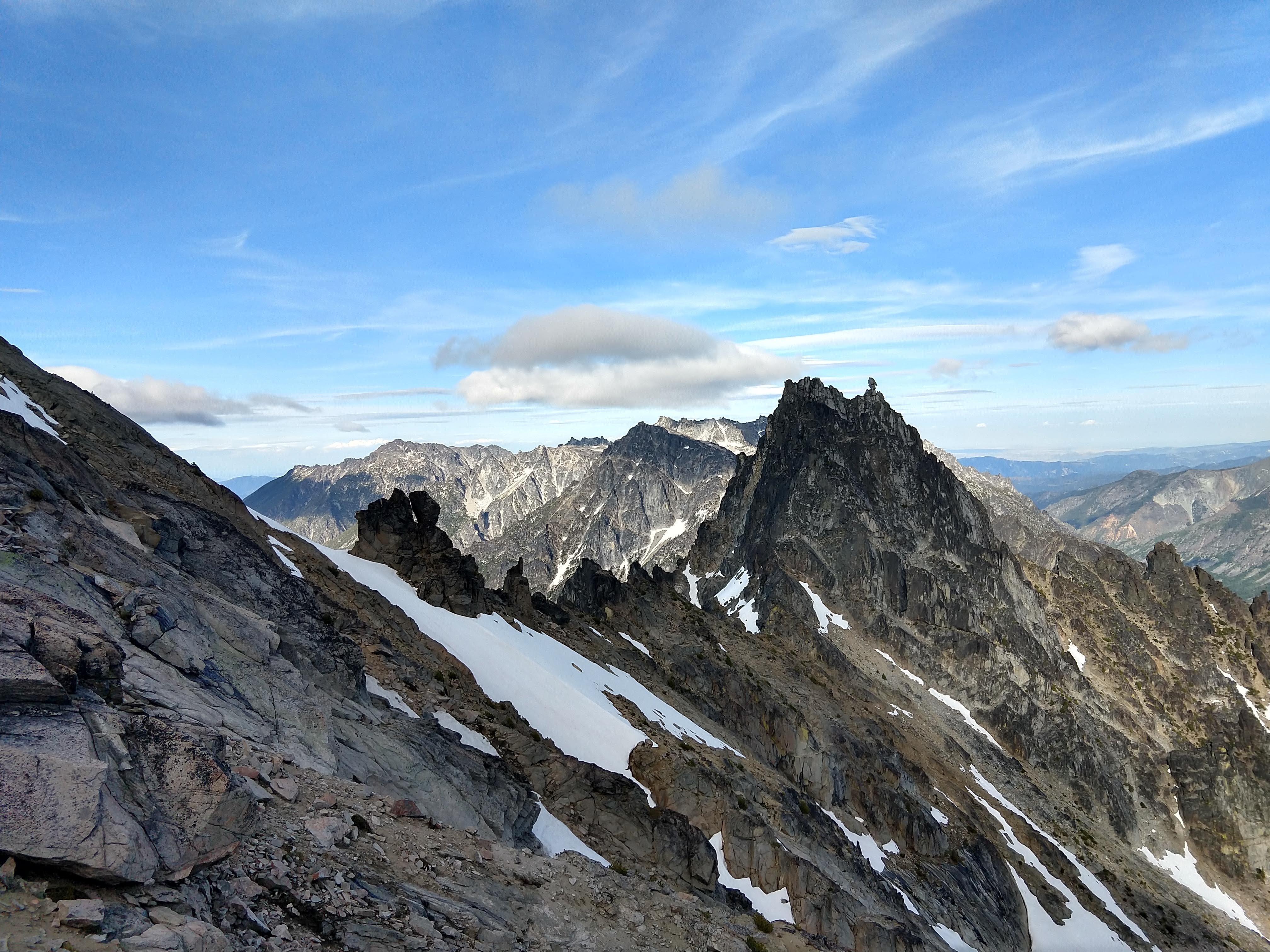 We reached steep snow section below false summit at around 8500 ft and geared up with crampons/ice axe. Snow was still quite hard and we were glad we had brought crampons. The steepest section was over 50 degrees but had very deep steps kicked; these will likely disappear during the week without climber traffic. This steep section would have been extremely insecure with hard snow & without steps kicked; in those conditions I would have wanted a pair of ice tools, since the runout is very bad and self-arrest likely impossible.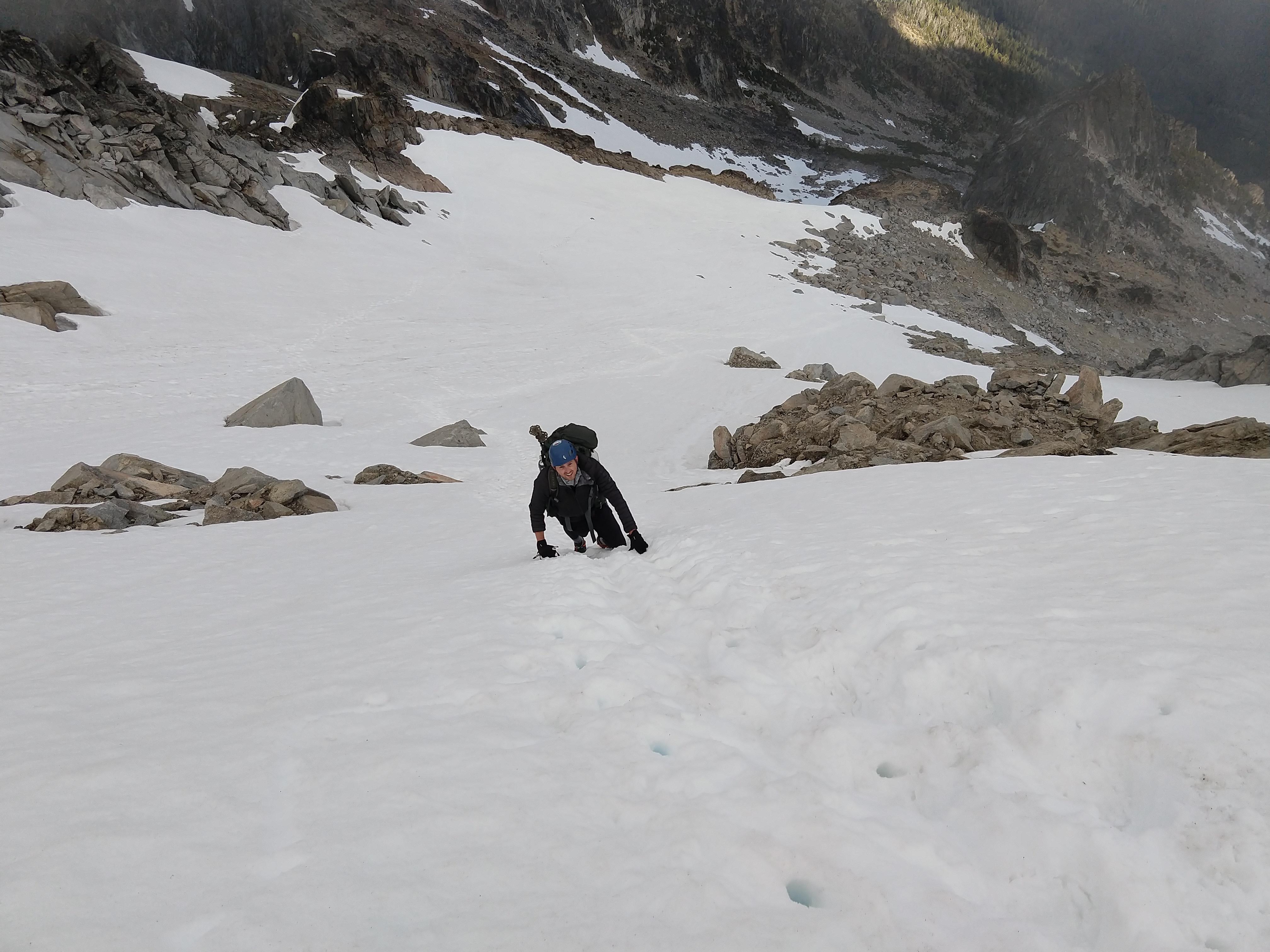 At 7:15 pm we set up camp at the very obvious bivy site at 9000 feet, below the false summit. We discovered we could have carried less water and melted & filtered (very silty) snow instead. We contemplated attempting the scramble over to the true summit but were fatigued so decided to go for it early the next morning.
Sadly we woke up to find it lightly sleeting with a layer of rime ice covering all the rocks. We waited a few hours for conditions to change but they did not; we decided to descend as the summit scramble would be too dangerous with the slippery rocks. We were inside a cloud so visibility was quite bad.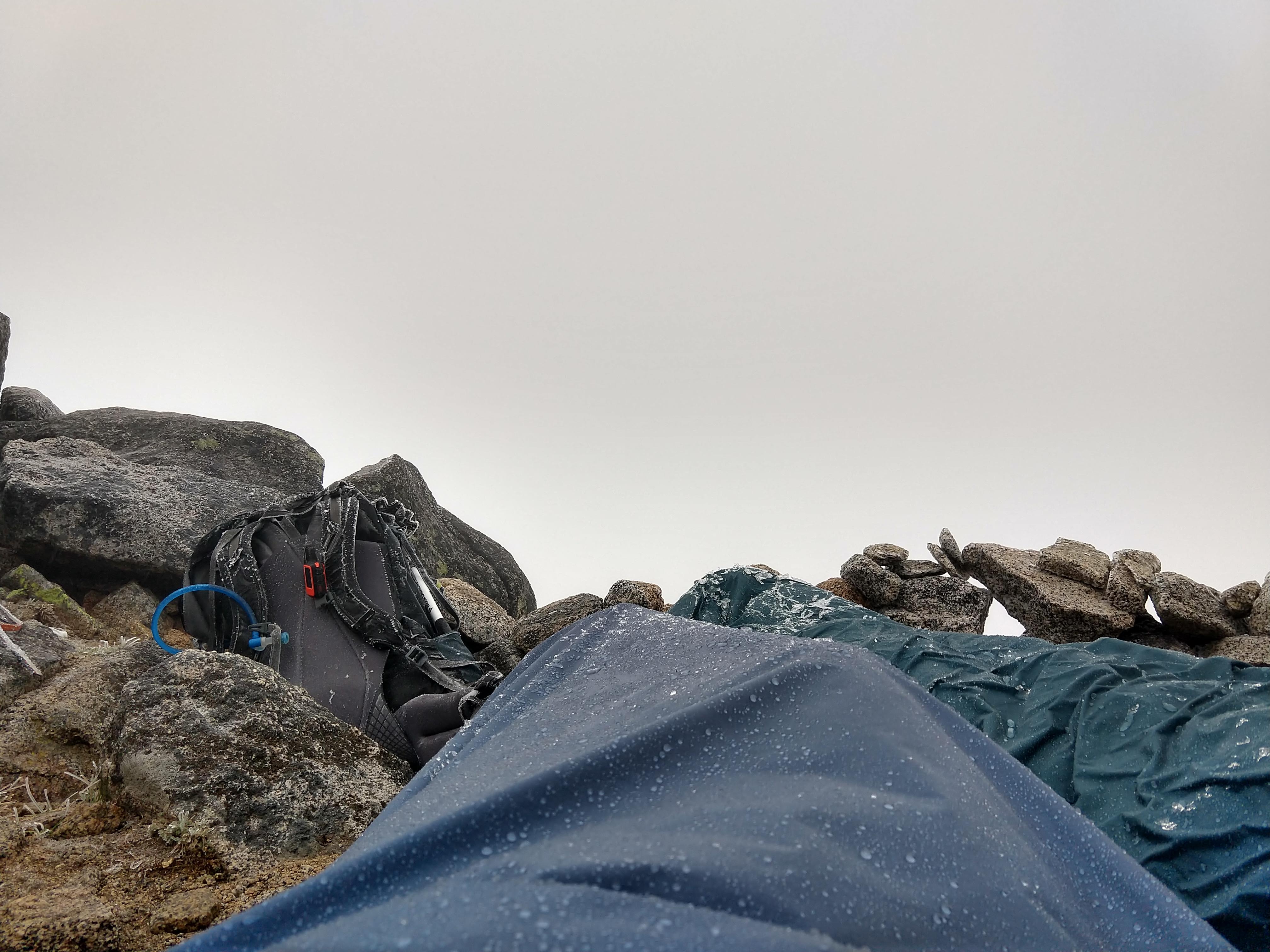 Descending the steep snow section was somewhat sketchy as the snowpack had hardened again, but the steps were still there. It was too hard to use our ice axe spike for self-belay, so we had to use the pick. We very slowly frontpointed all the way down to the rocks then continued the descent. The terrain naturally guides you toward the couloir to the east of the standard CC route, which is passable but of lower quality; we navigated to the true CC route and descended down to Ingals Creek. We reached the summit of Long's pass around 1 pm, and at that time the cloud at the summit had burned off.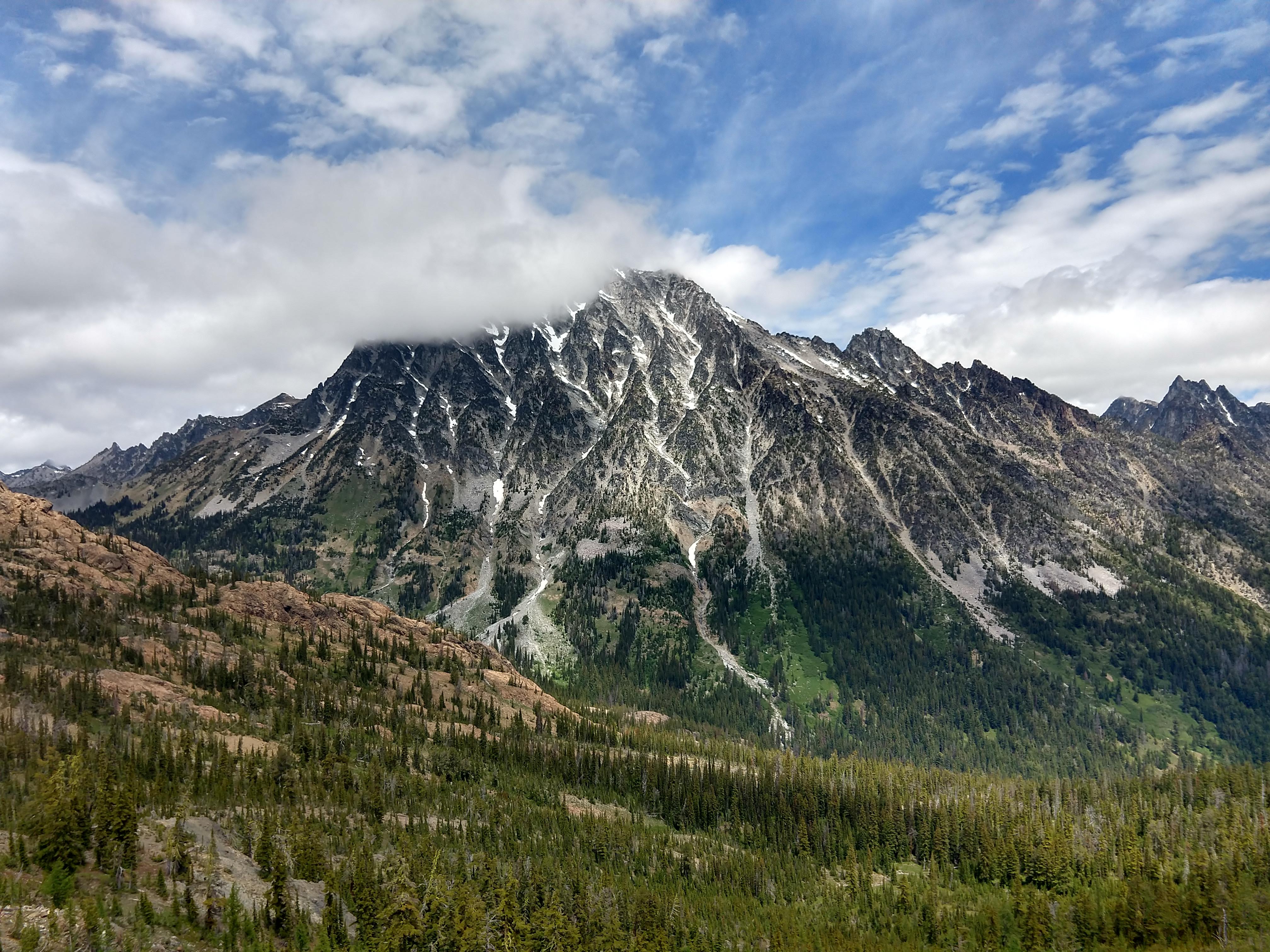 We didn't summit, but a truly spectacular bivy made the trip feel worth it.